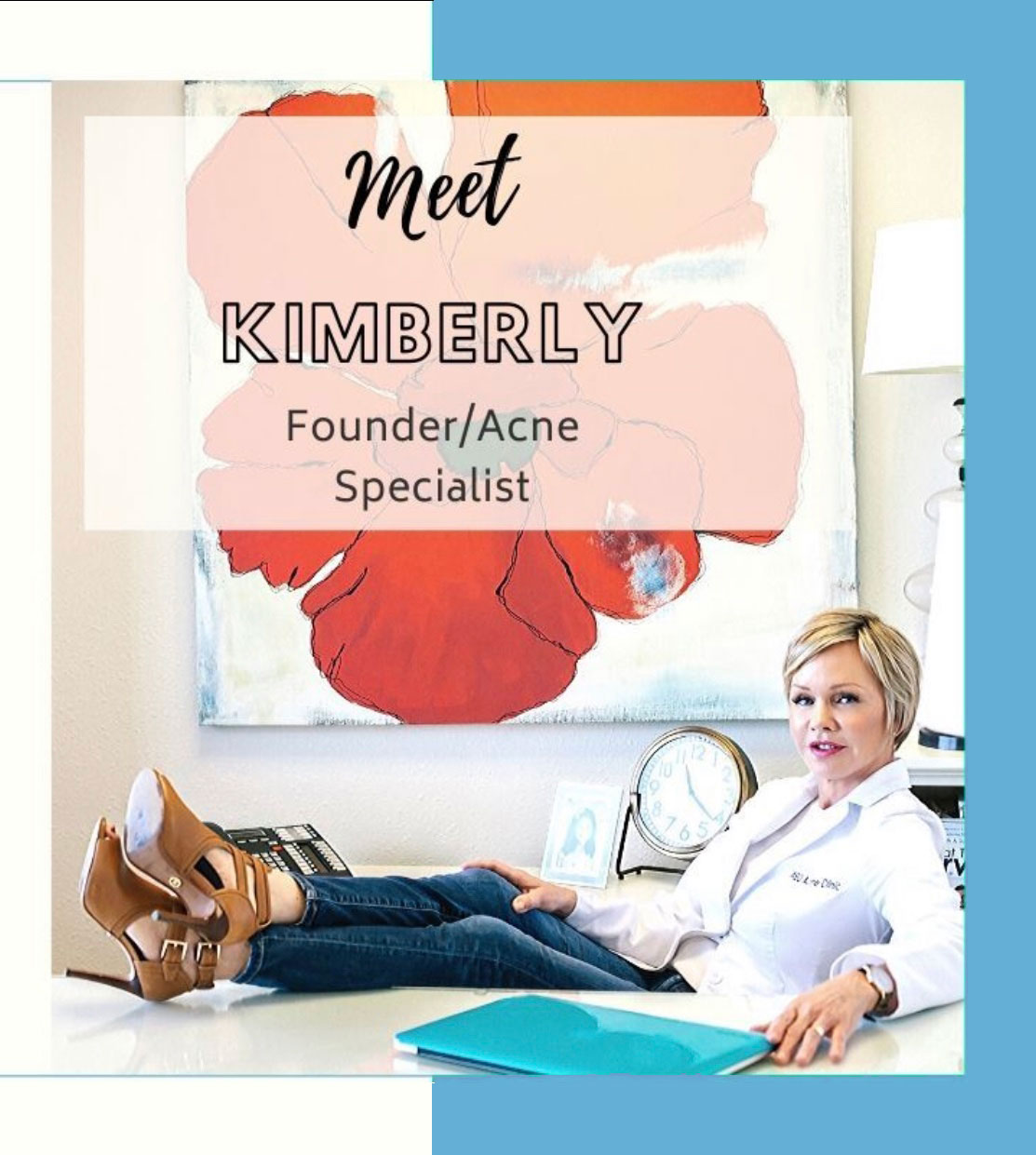 Kimberly Lovato, LE, Acne Specialist, Product Developer, Founder of the ABQ Skin Care & Acne Clinic and Creator of the Clear Path Program®.
Passion and obsession drive  Kimberly Lovato daily in her quest to educate and empower acne sufferers in all walks of life. Kimberly understands personally, the incessant struggle against acne all too well. After being diagnosed with acne-rosacea in her mid-twenties, she rode the roller coaster ride of acne treatments. Kimberly was prescribed the typical arsenal still being used today of topical prescriptions and antibiotics-none of which cleared her skin. Several times she inquired if her diet could be a contributing factor; however, she was met each time with a firm dismissal. It didn't make sense. How could the foods she was consuming not have an effect on her skin? Out of curiosity, Kimberly removed all dairy products from her diet, and within a week, she witnessed an undeniable calming effect to her skin. Thus, her quest had begun.
The acne industry in the US generates over 31 billion a year in products, treatments, and numerous medications. It's a thriving business model that focuses on treatment rather than prevention. Wouldn't it make sense to reveal the root cause of acne rather than take an antibiotic? Kimberly believes in a common-sense approach to clearing mild, moderate and severe acne without the use of topical prescriptions, laser treatments, antibiotics or Accutane. It's simple, by revealing the root cause anyone can identify the acne triggers at work. This allows the opportunity to make fast changes to stop acne in its tracks. "We believe in empowering our clients, not dependency," Kimberly advocates, "by providing a thorough acne education regarding diet, lifestyle and environmental factors, anyone can absolutely achieve acne free skin for life." Managing acne is a life skill that should be taught to all who suffer from a couple of blemishes to an all-out war against pimples. Yet, not all acne is the same and should not be treated as such.
The typical 'one-size-fits-all,' acne product lines available on the market today seem to be the status quo. There are different types of acne and each one needs an individualized approach. "This is why I created the Clear Path Program®, a unique acne clearing product line that addresses each person as an individual." Kimberly utilizes a simple step up program that increases specific ingredient percentages to prevent what is commonly known as 'plateauing' in the world of skin care. "Moderate to severe acne needs a slightly firmer approach to win the acne battle, and you just cannot find that in other product lines today," Kimberly explains. "most products focus on mild acne and do not have the strength to yield outstanding results. Someone may notice general improvements initially, which soon stops working, leaving a person feeling frustrated and hopeless."
The Clear Path Program® has been used exclusively for many years at the ABQ Skin Care & Acne Clinic located in Albuquerque, New Mexico. "Our program has cleared thousands of acne sufferers across the US with great success and now we are offering it to the public as an easy to follow, step by step program they can do themselves. Of course, for those individuals who would like the one to one approach, our Long Distance Program can connect you with one of our Acne Specialists to help guide you to your goal of 100% clear skin".
Anyone who is struggling with mild, moderate, or severe acne can clear easily with the Clear Path Program®. All you need are the steps to get you there.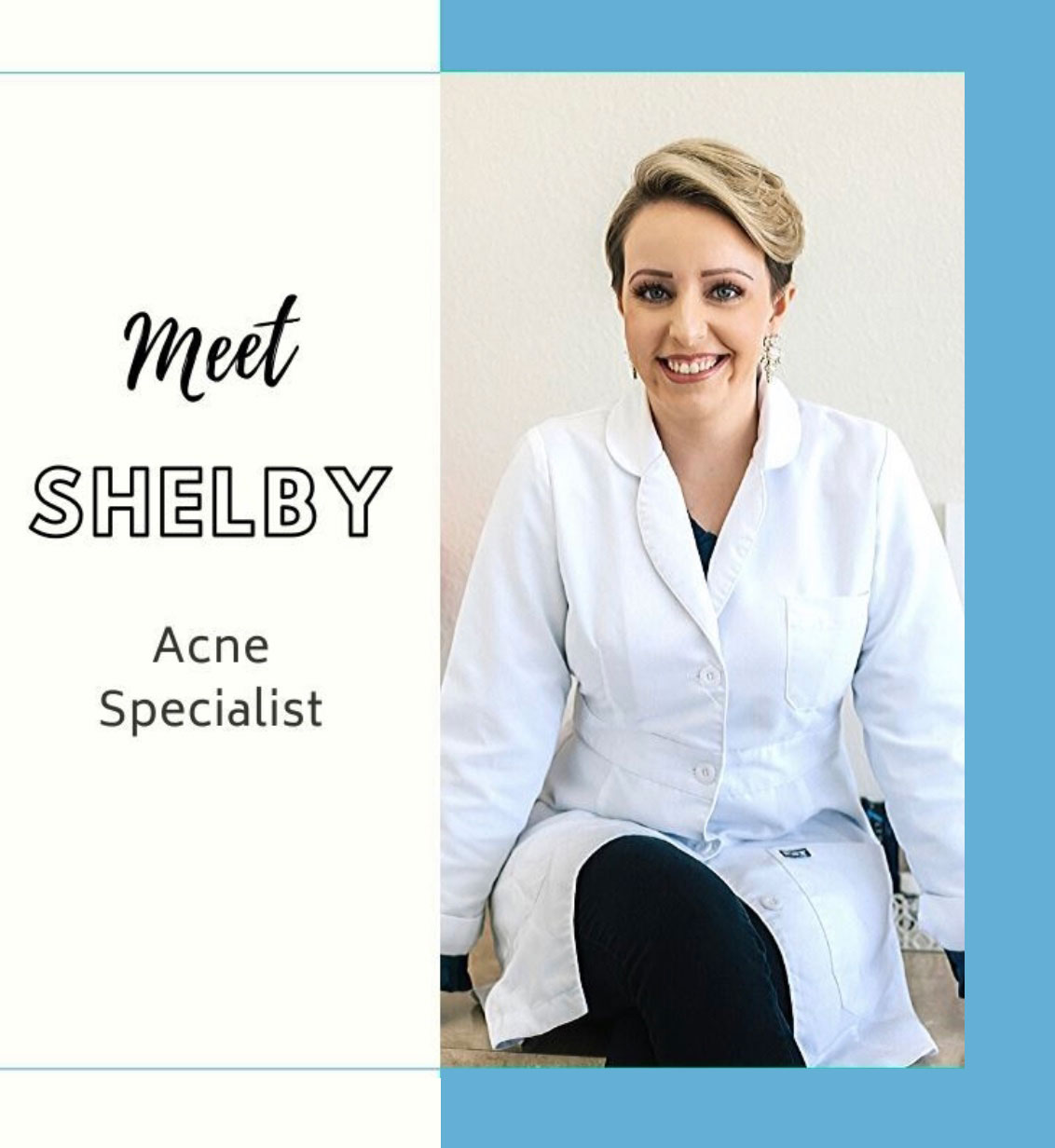 Shelby King Smith LE, Acne Specialist In 2011, Shelby graduated from the University of New Mexico with a bachelor's degree in psychology. After she graduated, she found herself in property management and later became a licensed insurance agent. Knowing that she was more of a people person than a cubicle person, she knew it was time to make a change and pursue a lifelong dream. Shelby always wanted to be in an industry where she could help people feel better about themselves, so she became a licensed esthetician.
At the age of 27, Shelby started struggling with her own health and skin. It wasn't until she was 30 when she finally made some lifestyle changes. Cutting out key acne triggers not only helped with her acne, but other health battles she was struggling with. She is a firm believer that disease and health issues start in the gut. When one's gut is healthy, our bodies thrive. Through the struggles that she has endured, Shelby is determined to help her clients achieve self-confidence and 100% clear skin with education, compassion and kindness.